Missions Ministry Clothing Giveaway Program
The Clothing Giveaway Program is an outreach effort of Southern Friendship Missionary Baptist Church's Missions Ministry. The Program offers a "store-like" setting where clean, slightly used and new women's, men's and children's garments and accessories are given away, at no cost, to anyone "in need". "Need" is defined as anyone who cannot afford to purchase clothing or finds it a financial strain to clothe his/her family. This can be a temporary need during a period of unemployment or budget strain (due to the winter heating costs, unexpected bills or higher medical expenses). In crisis situations, such as loss by fire or flood, or in the case of an abusive situation, the services of the Program can be made immediately available to those in need. Low and fixed income families may also be served by the Program. The Clothing Giveaway Program is available to everyone — in our Church and in the surrounding communities.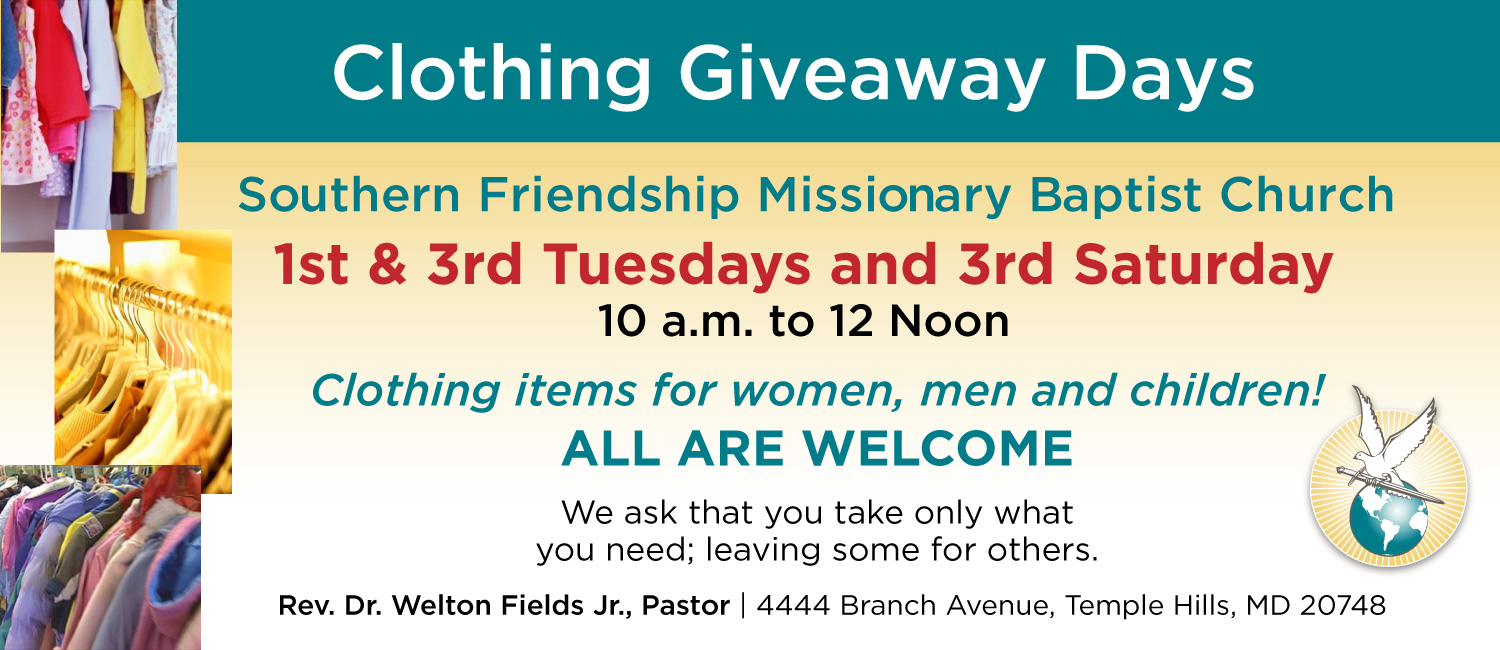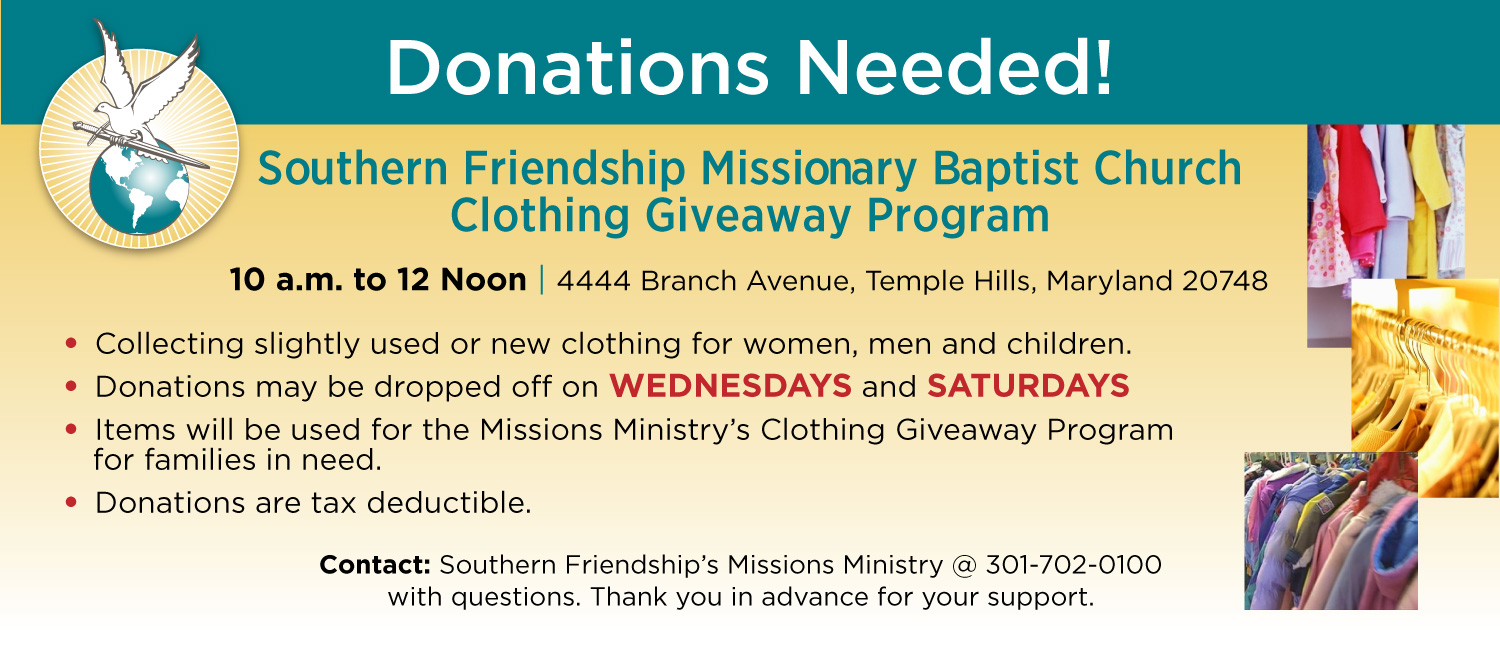 Each One, Reach One Food Pantry
Southern Friendship Missionary Baptist Church welcomes you to our Each One, Bless One Food Pantry. Our pantry serves the Prince George County community providing food to the homeless and people and families in transition.
Each One, Reach One Mission Statement:
We, the people of God at Southern Friendship Missionary Baptist Church, accept as our mission, Jesus' command to help those in need. Our Purpose is to use our calling and diversity within the body of Christ, to serve God's people. Our Values are guided by the Holy Spirit, we passionately commit to doing the will of the Lord. Our Vision for the first year is to help 500 or more persons in need of assistance at the food pantry and witness to non-believers. To help everyone who comes through our doors, with loving and open arms, no matter what the situation or circumstance. To let all who receive services know that we, at SFMBC are here to help without judgment.
Whoever oppresses the poor shows contempt for their Maker, but whoever is kind to the needy honors God.
Proverbs 14:31 (NIV)
Four Corners International Mission, Inc.
President of the Board of Directors, Rev. Dr. Welton Fields, Jr.
Four Corners International Mission, Inc. (FCIM) is a non-profit, faith-based organization. The vision for FCIM was established in 2001 after Pastor Charles Cato conducted his first missionary trip to Guyana and saw the great need for shelter, clothing, medical care, and salvation. Pastor Cato started with "godparent ministries" and clothing drives, and eventually incorporated FCIM. FCIM conducts missionary work in the United States, Africa, South America and Europe, affecting the lives of thousands of people in need.
VISION & MISSION STATEMENT
Vision: A world without poverty.
Mission Statement: Through biblical teaching, economic development, education enrichment and medical programs, we aid impoverished people throughout the world.
PROGRAMS & INITIATIVES
FCIM has established a presence to make a difference in the lives of those in need in regions of South America, Eastern Africa, and the United States. FCIM is currently expanding its humanitarian efforts to the Congo, Angola, and other areas of Central Africa. FCIM's efforts can be divided into four categories: Spiritual Development, Economic Development, Child Development, and Medical Services.
Spiritual Development Includes:
Conducting bible crusades in regions impacted by the hardships of poverty and sickness
Building and staffing Goshen Baptist Church in Guyana
Providing financial support of ministry in Suriname
Providing youth ministry for juvenile delinquent males in Kenya
Seminars, crusades, witnessing, and counseling in Maryland, West Virginia, and Louisiana.
Economic Development Includes:
Furnishing Guyanese women with electric sewing machines and generators that enable the development of informal businesses to sell their wares to a neighboring village
Provide outboard motors for boats, the sole source of transportation for food, work, and medical care in Goshen, Guyana
Drill wells to provide a permanent source of uncontaminated water and sanitation systems
Provide food and whole grains
Medical Services Include:
Provide medical services to include the diagnosis and treatment of hypertension, diabetes, malaria, dysentery, HIV, malnutrition, and other diseases
Provide volunteer medical staff from the United States to help establish and oversee clinics in Kenya, Guyana, and the United States
Raising funds to provide medical supplies to critically deficient health care facilities to meet the medical needs of impoverished areas
Child Development Includes:
Guyanese children are adopted each year and financially supported by caring supporters
Families are trained on the principles of health and hygiene
Donate laptops to schools to facilitate communication and provide them with easier access to public information
Visit us at http://fourcornersim.org/about-us/
Soles Saving Souls Shoe Drive
Soles Saving Souls is a shoe drive for FCIM sponsored by Southern Friendship Missionary Baptist Church. Southern Friendship Missionary Baptist Church housed over eighty thousand pairs of donated shoes for FCIM's shoe drive for The Shoeman's Water Project. SFMBC continues to collect shoes for Soles Saving Souls and has worked shoes drives at the Baysox games. Our first priority is to get shoes to the "shoeman" because he turns shoe donations into fresh drinking water. The second priority is to get shoes on the feet of the villagers because bare feet expose people to disease.
Clean Water Act
Urban Farming Initiative